Digital hydraulic balancing
blossom-ic Smart Home System with self-learning digital hydraulic balancing of single- and two-pipe heating systems and panel heating systems.
With the blossom-ic system, hydraulic balancing becomes child's play. Save yourself time-consuming assembly work on the pipe network and the installation of presettable valves or manifolds with flowmeters. Simply and conveniently replace the existing components with the blossom-ic system.

A costly and time-consuming calculation of the room-by-room heat requirement for existing systems is no longer necessary. Our gateway, in combination with the intelligent software, automatically and self-learningly takes over the hydraulic balancing during the next heating phases.
Should the heat requirement change due to further energy-saving construction measures, the system will immediately adapt to the new requirements. The system also reacts dynamically to new temperature inputs and ensures constant and even heat distribution.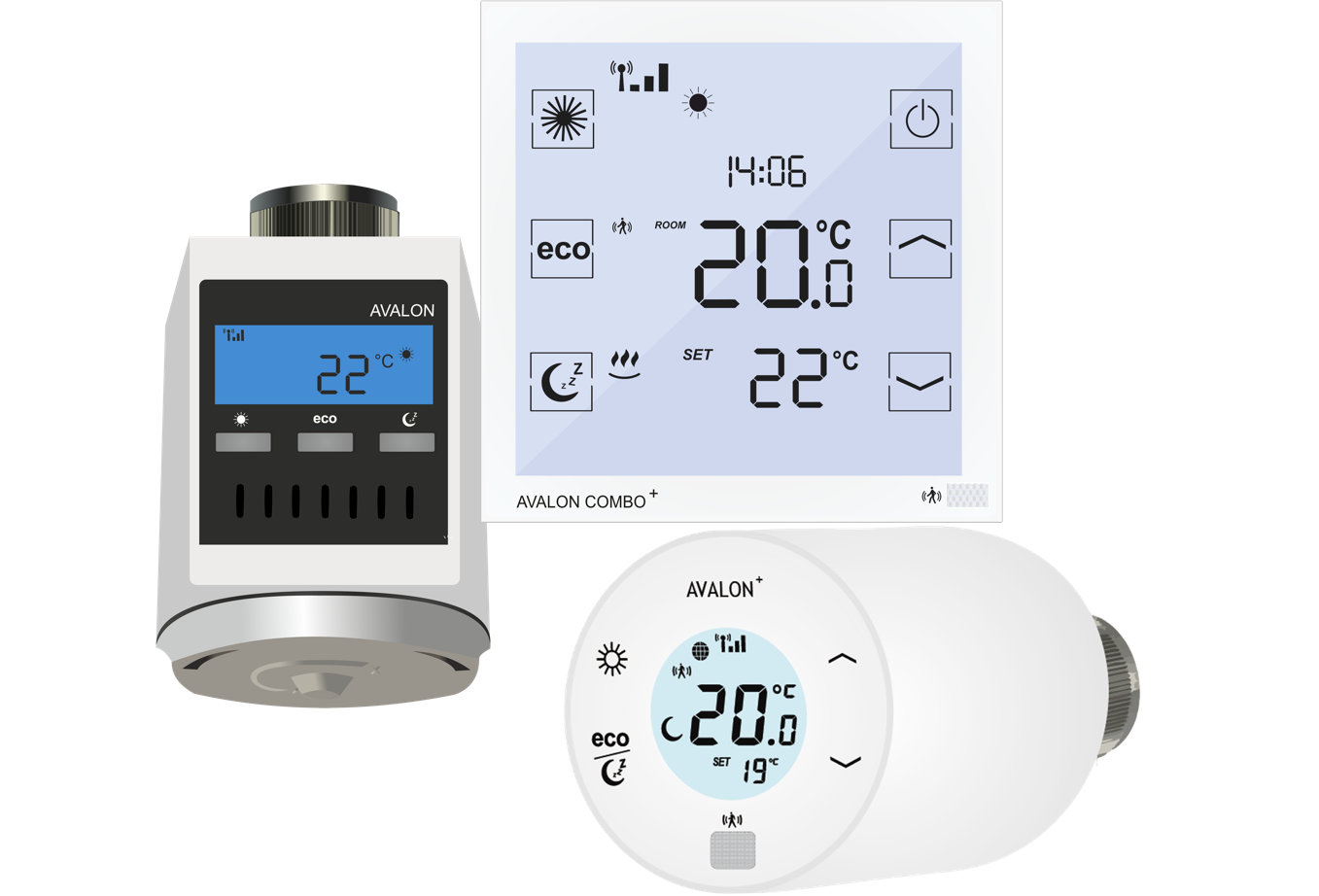 Due to the self-learning process, the valves are adjusted automatically and dynamically as demand changes. With conventional static hydraulic balancing, on the other hand, a new hydraulic balancing must be carried out if the spatial conditions or the heating system change..
The blossom-ic thermostats/actuators make a regular calibration run. This is especially important in the summer or autumn months. In conventional systems, the pins of the thermostatic valves are in the same position over the entire period and often get stuck. With our blossom-ic system you get a digital hydraulic balancing combined with a smart home radio control system for heating control with expandable functions, in only one product. In general, blossom-ic components can be used for new installations and renovations as well as extensions of existing installations and impress with a very good cost/benefit ratio. The blossom-ic system can also be used for single-pipe heating systems. The blossom-ic system automatically detects this change and adjusts the uniform heating within a very short time (2-3 heating phases). The blossom-ic system adapts individually and electronically to the conditions and thus offers an error-free calculation of the room heating loads.


Can be used for projects of any size
Hotels
Retirement homes
Single and multi-family houses
Public buildings
Church facilities
Digital hydraulic balancing with blossom-ic
blossom-ic Smart Home System with self-learning digital hydraulic balancing of single- and two-pipe heating systems and panel heating systems - based on intelligent algorithms.
Unique method - digital, fully automatic and adaptive
Very short assembly times
Based on intelligent algorithms
No intervention in existing piping and hydraulics necessary
Extensive testing by neutral testing institutes
What you get from it
Both you and your customers benefit from the advantages of digital hydraulic balancing.
The advantages for you
Very short assembly times
Pioneer with digital systems
Unlimited use from single-family homes to large projects
Functionality confirmed by reports from institutes with the highest accreditation level
The benefits for your customer
Optimal heat distribution
Highest heating comfort through blossom-ic control
State funding (up to 45% depending on the funding program)
System can be expanded with smart home products
FREQUENTLY ASKED QUESTIONS
Why is hydraulic balancing necessary?
Where is hydraulic balancing worthwhile?
What is done in a conventional hydraulic balancing?
The expert first calculates the heat requirement for each individual room. On this basis he determines the required flow rate of heating water. He then sets the calculated values on the presettable thermostatic valve of each radiator. As a rule, presettable valves must be retrofitted as part of the balancing process. With all the inconvenience of emptying + filling the system and the associated costs.
What are the costs of conventional hydraulic balancing?
On average, hydraulic balancing for a single-family house costs up to 1,250 euros. The price depends on how many thermostatic valves need to be replaced and whether the heating pump is replaced. On the other hand, this modernization offers a potential saving of around 110 euros per year. The additional installation of a high-efficiency pump makes hydraulic balancing perfect and also saves on electricity costs.
What are the advantages of hydraulic balancing?